Welcome to Year 2
2MrF Mrs Astill (teacher) and Mrs Martindale (teaching assistant)
2MW Miss Clews (teacher) and Mrs Setchell (teaching assistant)
2ET Mrs Morgan (teacher/ Assistant Head -Mon to Wed) and Mrs Farbon (teacher -Wed to Fri) and Mrs Rhodes (teaching assistant)
Other staff members – Miss Fisher, Mrs Fowler-Timms.
As we all settle into Year 2 routines, here is some important information for you to be aware of:
Children will enter the Year 2 indoor area independently. Doors open at 8.40am and will close at 8.50am.
If you need to speak to your child's teacher, there will be a member of staff at our Year 2 door every morning. Please speak to them and we will be able to pass on messages or call on your child's own teacher.
PE days are Monday and Thursday.
Children will need indoor and outdoor kit including plimsolls and trainers, and their house t-shirt (they are available at the office if a replacement is needed).
No jewellery to be worn on P.E days (including earrings, which must not be plastered or taped over).
Spelling tests will be on Mondays. The words to be learned will be given on a half-termly sheet. First test will be Monday 11th Spelling is tricky! Please do not worry if the words are challenging at first…remember practice makes progress!!!
Homework will be set on a Thursday and is due in on the following Wednesday. Homework should not cause anxiety, please see your child's teacher if you have any concerns.
---
Topic News
This term our topic will be 'Let's Play!'
In English we will be reading and sharing The Everywhere Bear by Julia Donalsdon. We will be writing teddy bear adventure stories based around this brilliant story. Look out for the date of our 'Bring a Bear' to school day.
In Maths we will be counting, writing numbers and learning all about place value. We will be using numbers from 1-100!
In Science we will be learning about materials and their properties and investigating which materials are best at all sorts of different jobs.
In History we will be learning all about the history of toys – looking back 30 then 60 years to discover how toys, and the way we play, have changed over time.
In Art we will be developing our drawing skills using pastels and charcoal to make a range of marks and creating our own illustrated story book.
The children have already made a great start to the new term and we are excited to continue and support their learning journey in the coming year.
If you have any questions, please do come and ask or email us at our class email address below:
We look forward to working with you.
Year 2 teachers
Details

Hits: 34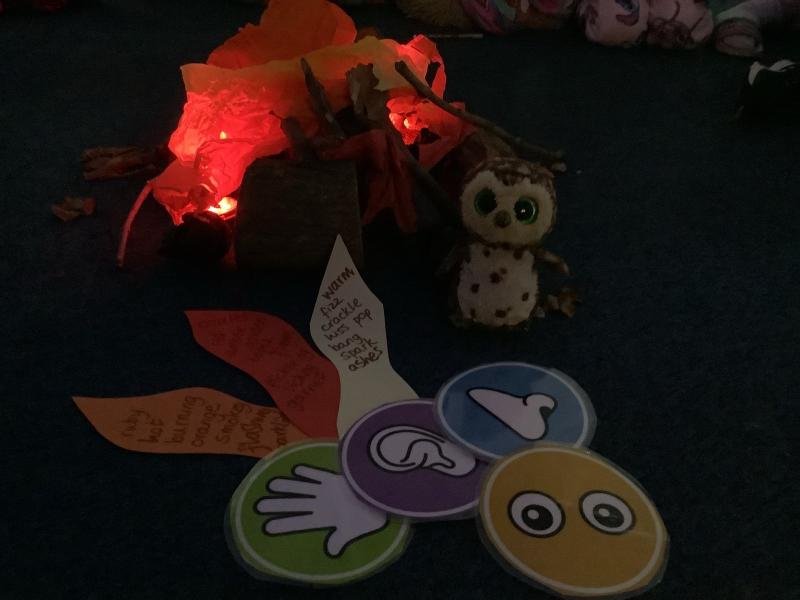 Last week we had a fantastic campfire day in Year 2.
We sat around blazing fires and played campfire games while sipping hot chocolate.
We imagined how Plop would have felt when sitting with the boy around the fire.
We collected lots of exciting vocabulary which helped us with the next part of our story.
What fun we had!
Details

Hits: 65
We have put together a Top Ten Reads list for Year 2!
These are books that are suitable for our young readers - some of them are our class favourties already! Ideal books for a birthday or Christmas present!
This week we are going to the school library to receive our very own library cards! The children will take a library book home to share with you during the holidays too.
We can't wait to hear all about their new stories!